Jan's January Newsletter 
I hope you all are enjoying the New Year thus far!
I've got some English re-releases and some brand-new foreign translations plus a new Cowboys audiobook for you all to check out.
But first, I want to let you know I am back at writing Her Forever Cowboys – the next Cowboys Online story with Milena as the main character and JJ as secondary. This story has taken on a life of her own. I started to explore Milena and her reaction to getting out of prison and it is just such a nice story that I want to devour it for as long as I can and see what happens. Right now I am at the point where Milena and Daegan are trying to outrun a thunderstorm and will end up in a cozy cabin. You know me…I love cabins!!
Alas, I am participating in a new boxset with some lovely authors. Fiery Fairytales gives us a new take on some fairytales, but they are for adults only!!
The Dark Side, my zombie romance ménage (m/f/m) has also been re-released. It was in the Zombie Apocalypse boxed set which is now gone as it was for a limited run. So The Dark Side is now out on her own. Details are below!
Foreign translation books include Portuguese, Spanish, French, Dutch and Italian. Feel free to let your friends who speak these languages know about the books. I hope they like them.
Cowboys for Christmas is now available in AUDIOBOOK! The second one is in the works! See below for details.
Don't forget that Groundhog Day is just around the corner so I am hoping she doesn't see her shadow and we can have six weeks to Spring. Wouldn't that be lovely?
Below are the releases. Have a great day!
Fiery Fairytales BoxSet ~ For Adults Only
~
Includes Sinderella Sexy by Jan Springer
Description
Discover dashing princes and magical endings like you've never seen them before. Open the storybook and fall into 11 tales of fiery passion and steamy love affairs in a fairy tale collection far from the ones you're used to.
There's something for everyone, from contemporary to paranormal and fantasy. Find out what really happened behind the princesses' closed doors.
You'll be dying to be home by midnight with Fiery Fairytales waiting for you.
Featuring…
If The Shoe Fits by Laura Greenwood 
Even Cinderella didn't have it this hard…
A Beauty for the Beast by Esme Wilde
He's scarred, feared, and dangerous — yet she craves his touch.
Sinderella Sexy by Jan Springer
To escape reality, Dr. Ella Cinder secretly performs in Sinderella.
Just One Bite by Nicole Morgan
Will an apple a day keep Dr. White away? 
Black Slumber by Helen Scott
She's been asleep for hundreds of years, but now she's awake and nothing will stop her.
Beau Ty by Donna R. Mercer 
Beauty has met his match with this Beast 
Twisted by Krista Ames
She couldn't help but get carried away…
Jammin' by Deelylah Mullin 
Magical tunes of love morph into something…more. 
Rose Red by Izzy Szyn 
After returning from college, I moved in with Hilde, and that is where my story begins.
---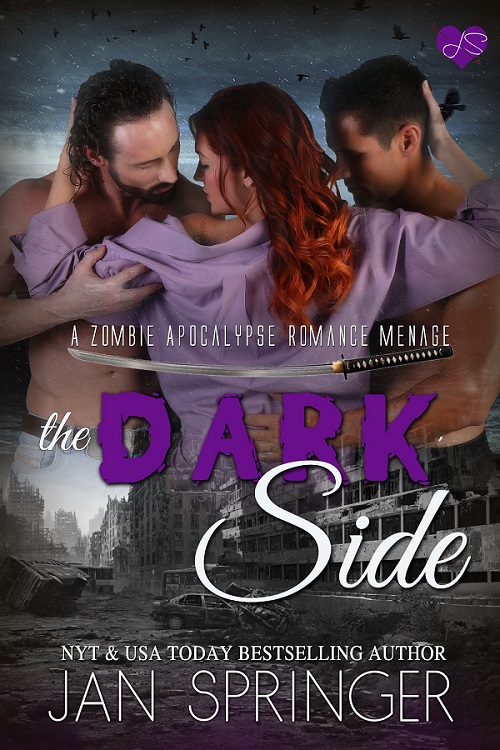 The Dark Side
A Zombie Apocalypse Romance Ménage
Jan Springer
~
~
Everyone thought it was the flu…but everyone was wrong.
Two sexy men help saber-wielding Jenna McKenna fight flesh-eating walkers during her desperate search for family members in the newly formed zombie apocalypse.
Good friends Tucker Brant and Ash Fleming have lost all their loved ones to the zombie-virus. The two men have tried to harden their emotions toward the saber-carrying woman intent on finding her family, but her strength and courage nurture a sizzling attraction the two men can't ignore. If they can live through the trek to the border and beyond, there just might be a future with Jenna.
Until then, they'll train her to fight zombies and enjoy her company as she warms their beds…
---
Dutch / Nederlands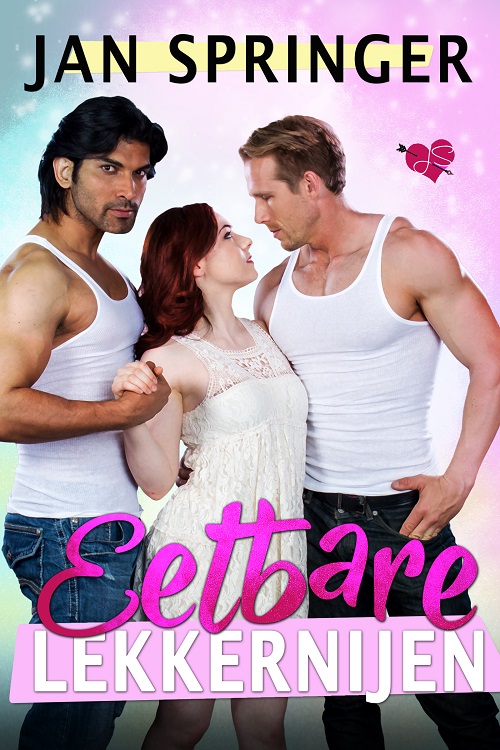 Eetbare lekkernijen (erotische romantiek huishouden) m/f/m
~
Jaren geleden verloor Allie Masters zichzelf in de verzengende passie van een ménage een Trois-relatie met haar  twee ultra-sexy bazen. Om haar onafhankelijkheid te herwinnen, liep ze weg.
Max en Nick waren erg voldaan met hun prachtige assistent. Het vrijen was adembenemend en beide vrienden deelden graag de vrouw met wie ze de rest van hun leven wilden doorbrengen. En toen verliet ze hen. Nu hebben Max en Nick besloten Allie weer in hun leven te verleiden…
---
Spanish / Español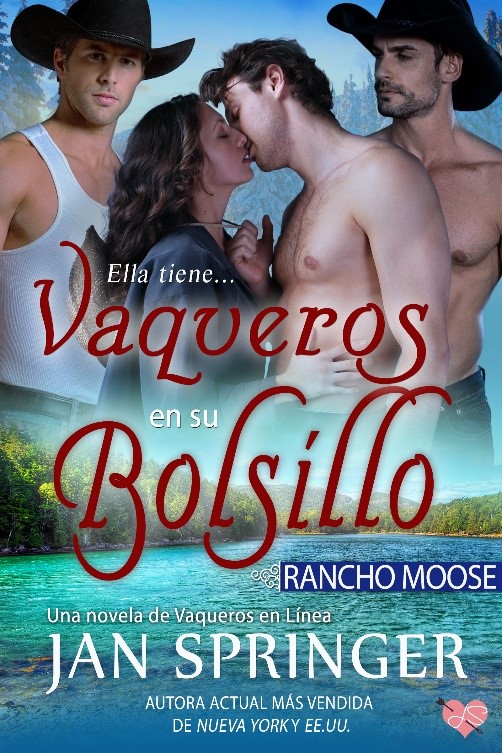 ~
Vaqueros en su Bolsillo ~ Una novela de Vaqueros en Linea (Rancho Moose#2)
~
Traducción por Krishna O.T.
Después de pasar diez años en una prisión de máxima seguridad, Jennifer Jane (JJ) Watson consiguió la libertad condicional anticipada y un trabajo en un remoto rancho de ganado canadiense jugando a la ama de llaves de tres de los vaqueros más sexys que haya conocido…
La primavera al fin ha llegado al Rancho Moose, y una mujer soltera recién salida de prisión no debería estar sufriendo ménages abrasadores con sus tres vaqueros sexys como el pecado. Pero el amor de JJ por sus hombres continúa creciendo a medida que cede ante el calor enfebrecido y las pasiones abrasadoras que siente por cada uno de ellos.
La vida es perfecta.
Hasta que su nueva vida se prueba cuando ocurren misteriosos sucesos en el rancho y después atacan y hieren a uno de sus vaqueros. ¿Se le arrebatará a JJ su libertad recién descubierta?
Rafe, Brady y Dan nunca esperaron encontrar una mujer atractiva y muy seductora para ayudarlos en su rancho aislado. Pero en las tierras salvajes del norte de Ontario, la compañía femenina es rara. Es algo bueno que a los tres hombres les gusta compartir…
Brady, Dan y Rafe nunca han sido más felices. Su rancho de ganado florece y su deseo continuo de compartir a la sexy mujer que los cuida hace que su vida este completa. Hasta que el peligro amenaza con destrozarlo todo…
Vaqueros en línea Serie ~ Rancho Moose – 1. Vaqueros para navidad  2. Vaqueros en su bolsillo 3. Amar a sus Vaqueros
---
French / Français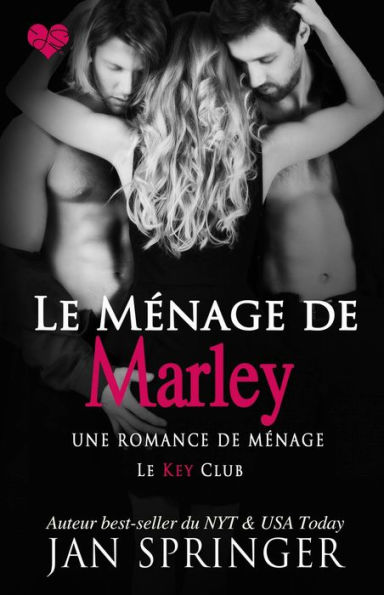 ~
Le Ménage De Marley
Le Key Club 2
Translated by Agnes Ruiz
Célibataire, future maman, Marley Madison a l'habitude de ressentir des envies irrésistibles dans la journée, mais depuis qu'elle est enceinte, ses fringales deviennent franchement… coquines. Elle veut un ménage et elle en a absolument besoin. Quand elle apprend que son club d'échangistes local organise une soirée de ménage réservée aux femmes enceintes, on peut compter sur sa présence !
Les ex-flammes de Marley, Rick Antonia et Kacey Poole, viennent de rentrer en ville après avoir servi dans les Opérations Spéciales pendant de nombreuses années. Quand les deux hommes repèrent Marley au Key Club, ils n'en reviennent pas à quel point elle a changé. Son ventre doucement arrondi les excite à n'en plus finir et ses seins sinueux les intriguent. Ils la veulent dans leur lit et ils vont s'assurer que son rêve d'un ménage brûlant devienne réalité !
Soudain Marley est attachée pour le plaisir et abasourdie que ses deux ex-amants soient passionnés plus que jamais. Elle n'a jamais été aussi excitée par leurs petites attentions et leurs tendres baisers… mais Marley était amoureuse d'eux depuis des années et elle a juré de ne plus laisser cette complication se reproduire.
---
Portuguese/Português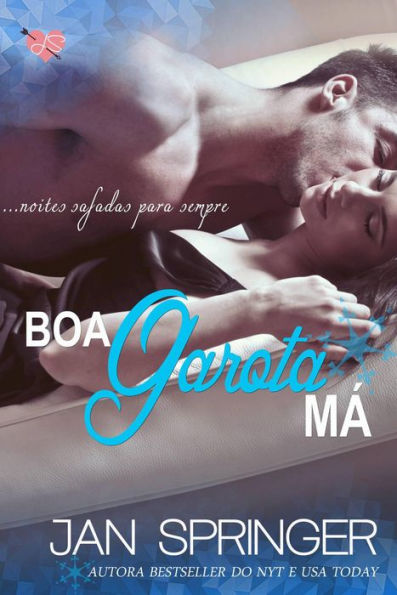 ~
Boa Garota Má
Traduzido por Fabielle Cruz
~
Cega desde os dezenove anos, Summer floresceu como uma famosa escultora de madeira.
Quando ela é quase morta por um serial killer, ela é levada para uma cabana isolada pelo homem que ela amou secretamente. Summer não se cansa de tocar nos músculos grossos e poderosos do guarda-costas profissional Nick Cassidy e em todas as outras partes do corpo masculino, duras e deliciosas, que ela sempre quis explorar.
Durante anos, Nick ficou longe da irmã mais nova de seu melhor amigo, a garota legal Summer. Agora ele está de volta e varrendo sua linda ruiva para os desejos impertinentes que ele sempre teve por ela. Com a paixão cegando-o, Nick não percebe que o esconderijo deles não é seguro – até que seja tarde demais.
---
Italian / Italiano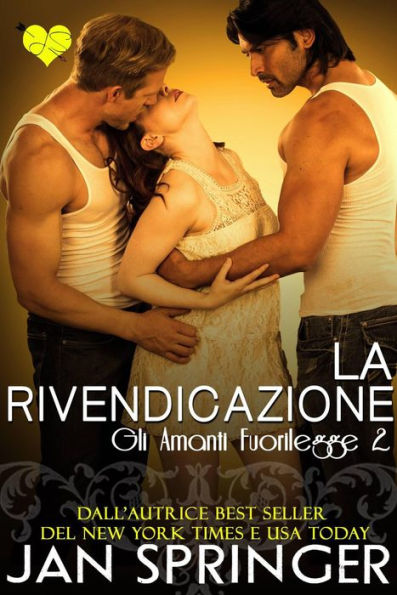 La rivendicazione
Gli Amanti Fuorilegge 2
~
~
Un virus micidiale ha ucciso la maggioranza della popolazione femminile del mondo.
Con la promulgazione della Legge Di Rivendicazione, i gruppi di uomini hanno improvvisamente il diritto di reclamare una femmina come loro proprietà carnale.
I Fratelli Outlaw sono di ritorno dalle Guerre del Terrore e hanno intenzione di dichiarare l'appropriazione delle loro donne… A qualsiasi costo.
Cercando riparo dagli effetti della Legge di Rivendicazione, Callie Callahan si nasconde in una capanna abbandonata nei boschi del Maine e prova un autentico choc quando la sua ex fiamma la trova. Aveva sempre desiderato trovarsi tra le braccia di Luke. Assaporarlo. Toccarlo. Accoglierlo fino in fondo dentro di sé. Che può fare una ragazza in quella situazione, se non sprofondare nelle delizie peccaminose che l'uomo le offre?
Luke si è finalmente riunito all'amore della sua vita. E sa che esiste solo un modo per mantenere Callie al sicuro e con lui per sempre. Lo farà con l'aiuto dei suoi tre fratelli e un vasto assortimento di giocattoli lussuriosi.
Ravvivando il calore tra di loro, sbriglia il lato sensuale di Callie in modi che la ragazza non avrebbe mai ritenuto possibile, sempre con l'obiettivo finale di presentarla agli Amanti Fuorilegge e alla Rivendicazione.
Gli Amanti Fuorilegge Serie 1. Jude Outlaw 2. La rivendicazione
---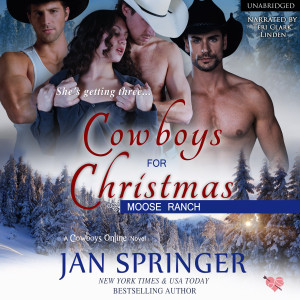 AUDIOBOOK
Cowboys for Christmas
A Canadian Romance Ménage Contemporary Western (m/f/m/m)
╰☆╮
Narrated and produced by Teri Clark Linden
╰☆╮╰☆╮╰☆╮
Jennifer Jane Watson has spent the past ten Christmases in a maximum-security prison. The last thing she expects is to get early parole along with a job on a secluded Canadian cattle ranch serving Christmas holiday dinners to three of the sexiest cowboys she's ever met!
╰☆╮
Rafe, Brady and Dan thought they were getting a couple of male ex-cons to help out around their secluded ranch. The last thing they expect is an attractive and very appealing woman fresh out of prison. In the snowbound wilds of Northern Ontario, female companionship is rare. It's a good thing the three men like to share…
╰☆╮
They're dominating, sexy-as-sin and they fill JJ with the hottest ménage fantasies she's ever had. Suddenly she's craving Cowboys for Christmas and wishing for something she knows she can never have…a happily ever after.
Thanks for reading my books! Have a great day!!
Jan Springer

---